FOR MORE SWIMMING LESSONS
IN MARBURG
ASSOCIATION PROMOTES BEGINNERS' SWIMMING COURSES IN MARBURG
The corona pandemic has changed many things and even brought one or two things to a standstill, including many sporting activities of children and young people. This has had particularly dramatic consequences in swimming: The coveted swimming course places are even more difficult to obtain with many registrations piling up due to backlogged courses. For many families, the hurdles of registration and accessibility are compounded by the fact that a swimming course is often financially unaffordable.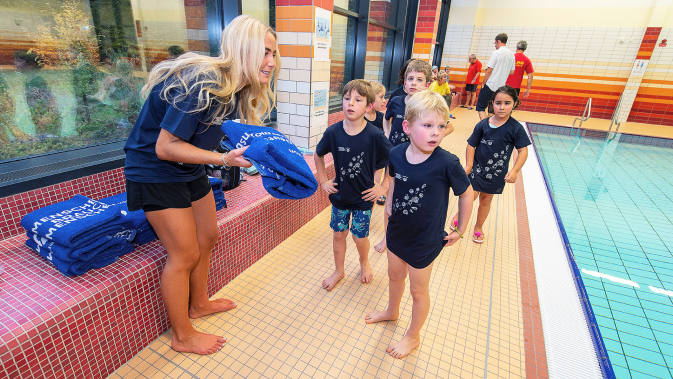 JOINT OFFER FOR MORE SEAHORSES IN MARBURG
This is exactly where the new cooperation between the non-profit association "
Menschen brauchen Menschen
"
e. V., the "
Tafel Marburg
" e. V. and the "
DLRG Ortsgruppe Marburg
" e. V. comes in.
Children between the ages of five and eleven from families affected by poverty can attend beginners' swimming courses, "Menschen brauchen Menschen" e. V. covers their costs. Parents with children of appropriate age can obtain vouchers from the "Marburger Tafel" on request and use them to register for a course at the "DLRG Marburg" in the "Wehrda" swimming pool free of charge.
"The corona pandemic has further aggravated the tense situation in families. For many, a swimming course is simply not financially feasible. We are very happy that we can help the children with this offer, because learning to swim is essential for survival."
Rita Vaupel, 1. Chairwoman of Tafel Marburg e. V.
"We have been observing for years that the swimming ability of children and youths is decreasing. This makes this cooperation all the more important, because when children swim they not only practise dexterity and endurance, it also means a great deal of safety for them if they can move around in the water without fear."
Dirk Bamberger, 1. Chairman of the DLRG Ortsgruppe Marburg e. V.
A PROJECT OF THE HEART FOR EXTREME SWIMMER NATHALIE POHL
Since its foundation in 2020, "Menschen brauchen Menschen" e. V. has been making a difference in society. The goal: to sustainably promote livelihoods and conditions in society. As part of its partnership with "Tafel Deutschland" e. V., MbM e.V., sponsored by "Deutsche Vermögensberatung", supports numerous national and local projects, including Marburg. Nathalie Pohl, founding member of "Menschen brauchen Menschen" e. V. and extreme swimmer, is passionate about supporting the project in her home town. The 27-year-old was there for the kick-off of the first swimming course in Wehrda and concluded:
"WHERE BETTER TO START THAN IN MY HOMETOWN, WHERE I MYSELF DID MY FIRST SWIMMING STROKES."
The response to the offer has been massive, and the cooperation is to be continued and even expanded in the future. "Menschen brauchen Menschen" e. V. is currently planning to offer the free swimming courses for children from families at risk of poverty together with "DLRG" and "Tafel" in Frankfurt as well.